Keto Tortillas Zero Net Carb, Sugar Free, 22.5 Calories - Hack The Bread - 6.3g Fiber, 3.4g Protein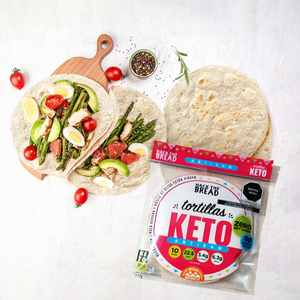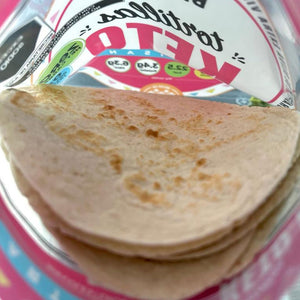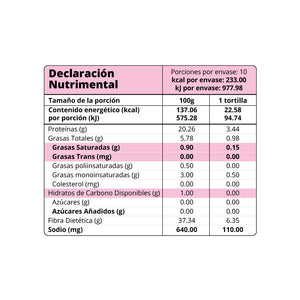 Keto Tortillas Hack the Bread® our Keto Tortillas are your best allies with 0g Net Carb, 22.5 calories and 3.4g of protein, ideal for eating tacos, quesadillas and many more.
In our Keto Artisan Tortillas, we use premium quality ingredients like extra virgin olive oil and golden flaxseed to achieve a Keto tortilla without sacrificing flavor.

After years of development, Hack The Bread brings us these innovative Keto Tortillas that do taste great, with delicious butter flavor and very Mexican.
Hands down the Best Keto Tortilla in the World!

Certified by KETO PROJECT VERIFIED.

They are made by hand and with a lot of love!

0g Net Carbs per Keto Tortilla
0g Trans fat
0g Sugar
22.5 Calories
3.4g of protein
6.3g of fiber
Made with Golden Linseed and Extra Virgin Olive Oil


When they arrive you generally have 25 days to consume them at room temperature, or you can freeze them for up to 6 months and take out what you need.

It also helps to preserve their freshness by storing them in the refrigerator (seal the bag tightly when storing).
What do our customers say
I already tried the bar and the granola. AME AME.
@Camochoa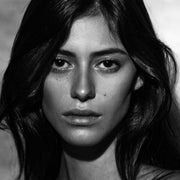 Wow Aeee all after a while I start cooking to teach!
@Aleguilmant
He mega raffled yesterday! I made an order in the afternoon, thinking would be a couple of days, and at 10:30 p.m. they talk to me to tell me they are down! A thousand graxias. 🙌🏻
@Marianaau
I love I love cookies. They are great 😍😍😍
@Laweraamx
Buy flour for brownies and cookies and are DELI.
Samantha F.